Five times Internet activism made a difference
"The revolution will not be televised…the revolution will be live," musician Gil Scott-Heron famously sang in 1970. But with the evolving ability of citizens to connect online and through social media despite vast physical distances, a slew of new social movements are increasingly pushing for action on a range of social, political, and cultural issues.
The immediacy of social media, many activists say, allows a rapid spread of information not previously available, with updates possible in near-real time. From the Arab Spring to SOPA to #blacklivesmatter, here's a look at how online activism has impacted social issues across the globe.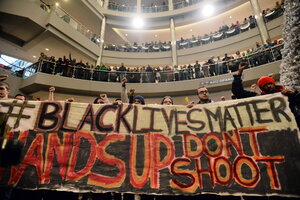 Aaron Lavinsky/Minneapolis Star Tribune via AP/File
1.

Black Lives Matter

The rapidly-growing grassroots movement calling for a wider consciousness about anti-black racism and police violence had its roots in an impassioned Facebook message posted by Alicia Garza, an activist from Oakland, Calif., in July 2013.

After watching a Florida jury decline to convict George Zimmerman for the death of unarmed teen Trayvon Martin in part because of the state's controversial "Stand Your Ground" law, Ms. Garza took to the social media site to post her thoughts on the impact of the verdict, ending her message with "Black people. I love you. I love us. Our lives matter."

Garza's friend Patrisse Cullors, a community organizer who works on prison reform issues, read the post that night and began sharing it, along with the hashtag #blacklivesmatter, with the two contacting Opal Tometi, an immigrant rights activist, to set up Twitter and Tumblr pages using the slogan.

The slogan exploded into popular consciousness a year later, with the death of 18-year-old Michael Brown, who was shot dead by a white police officer in Ferguson, Mo., in August 2014, leading activists to form more than 26 Black Lives Matter chapters across the US. As a series of fatal shootings and injuries of mostly young black people have continued to grip the country, Garza's slogan has been omnipresent, used by President Obama to memorialize the nine victims of a shooting in Charleston S.C. in June and in scores of protests.

As with the Arab Spring, the use of social media has been a key communication tool for activists in the wake of fast-changing protests after Mr. Brown's death in Ferguson and in Baltimore following the death of Freddie Gray in police custody in April 2015. "Social media plays a big part in everything," Kwame Rose, a 21-year-old protester from Baltimore told the Guardian. "I find out information, I put it on Twitter, it starts trending the more people talk about it and then the institutions start feeling the pressure."
#iftheygunnedmedown
The use of commonly available digital tools also offers the ability to shape the media's narrative on police violence and the protests themselves.
One example is the hashtag #iftheygunnedmedown, first created in 2014 by C.J. Lawrence, an young attorney in Jackson, Miss. Mr. Lawrence was struck by the picture of Brown used by several TV networks. Shot from a low angle, it showed him glowering at the camera, flashing a v-sign that some commentators interpreted as a gang sign.
In response, he created his own form of social commentary, juxtaposing two pictures from his past — showing his college graduation, featuring a laughing Bill Clinton, and a dimly-lit shot of himself holding a liquor bottle on Twitter along with the hashtag #iftheygunnedmedown.
The hashtag quickly went viral, briefly becoming the No. 1 trending topic in the world on the site as scores of young black people created their own collages to challenge the media's portrayal of victims of police violence. It led the networks to select another photo of Michael Brown, showing the chubby-cheeked teen wearing headphones.
But observers say that while the social media tools have made activist movements such as Black Lives Matter accessible to participants across the country, it's the actions of the activists themselves that make an impact.
"That shift from the one to the many is significant," Jesse Daniels, a communications professor at the City University of New York told the Monitor in September 2015. "But it's not the tools that are driving the change, it's the people, it's the social movement and that's what makes me hopeful."