Six things to know about Apple Pay
Apple's mobile payment system, Apple Pay, made its debut this fall. Now you can flash your new iPhone in the checkout line to pay for food, clothing and other goods. There's no need to pull out your credit card.
But don't leave your wallet or purse behind quite yet: Despite a few dozen retail chains pledging support for Apple Pay, so-called contactless payments are still new. Smaller merchants, in particular, aren't likely to have the necessary equipment right away.
Here's a guide to how Apple Pay works and what to expect.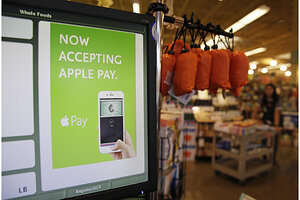 Eric Risberg/AP
1.

What do I need to use Apple Pay?

To fully use Apple Pay, you'll need an iPhone 6 or iPhone 6 Plus with iOS 8.1, a free software update released Monday. You'll also get some online-only features with the iPad Air 2 and iPad Mini 3 coming out later this week. Older devices won't work, even with the 8.1 update.

You'll also need a credit card that works with Apple Pay. Major credit card issuers such as American Express, Bank of America, Capital One, Chase, Citibank and Wells Fargo are backing Apple Pay. Apple says more than 500 banks are participating, representing about 83 percent of the card volume in the U.S.

To get started, use the Passbook app or go to "Passbook & Apple Pay" in the settings.