The Internet's perfect swarm
BitTorrent software utilizes the Internet's most valued asset – the user community – to share the burden of increasingly larger downloads, such as movies and games. An unlimited number of users in a network can "swarm" a file and simultaneously consume it, divide it, and pass it along, making the process fast and efficient.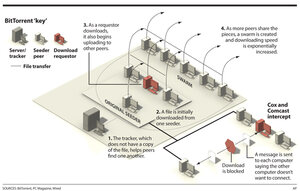 Click on the thumbnail to see the full image.
.
.
.
.
.