YouTube cyber-orchestra puts a new spin on traditional auditions
Website's invitation to audition by video for its new online orchestra rewrites the finely tuned art of judging a musician's talent.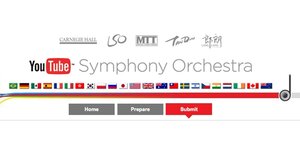 Screen shot of youtube.com/symphony
"American Idol" for classical musicians?
YouTube's call last week for auditions for the world's first online orchestra may help level the playing field for aspiring musicians, as well as expose a new generation to classical music. Invited to submit video entries for the newly created YouTube Symphony Orchestra channel, winners will perform at New York City's Carnegie Hall next April.
The draw for many musicians will be China's Oscar-winning composer Tan Dun ("Crouching Tiger, Hidden Dragon"), who has written a piece specially for the event called "The Internet Symphony." Applicants will download the appropriate sheet music for their instrument and practice with a video of Dun conducting for their part. Next, they will film themselves and upload the video to YouTube. Then, they will upload a second performance, a classical piece of their choosing to show off their interpretive skills.
"It's an interesting experiment," says Luke Krafka, a cello performance major at Boston Conservatory, about the idea of a global cyber-orchestra.