Google Reader is dead. Here are five alternatives.
Google Reader should now be referred to in the past tense: the information aggregator that was.
Last March, Google announced that its once cutting-edge content organizer had become passé, and was no longer getting the traffic and attention to merit maintenance. And so, on July 1, 2013, the application ceased to exist.
The Internet giant recommends that users still interested in the tried-but-true RSS system should export their data with Google Takeout. (If nothing else, exporting your data with Google Takeout is an interesting exercise to see what information Google has accrued on you and your Internet tastes.)
But where to go with this data? Good question.
Click through our Google Reader replacement list to find out what awaits.
Google Reader is dead. Long live…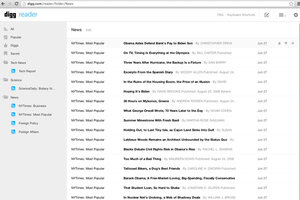 Digg Reader website
1.

Digg Reader

Digg Reader is one of the new kids on the aggregator block – it was launched in June – but it's attached to the preexisting Digg social news website.

Digg Reader's page has a clean and simple design that allows you to import information from Google (all of your old Google Reader information!) and personalize your own news feed.

You can share on Twitter and Facebook, save articles, and check out popular trends. There is still no category for unread items, but Digg promises those features are on the way.

Is there a smart phone app? Yes. Digg Reader is compatible with iPhone and iPad. The Android app is coming soon.

Cost? Free.