Quick guide: Chromecast vs. Apple TV vs. Roku vs. Xbox 360 vs. PS3
For the first time, fewer Americans subscribed to cable and satellite TV last year than did the year before, according to The Diffusion Group. Pay subscriptions peaked in 2011, and will continue to erode for years to come, according to TDG. Meanwhile, TV streaming has taken off, driven by sleek, inexpensive set-top boxes such as Google's Chromecast, Microsoft's Xbox 360, and Apple TV.
Check out our list of alternatives to cable TV to see what all video-streaming hype is about.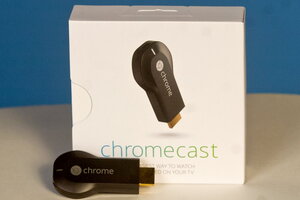 James Durbin/ AP Photo/Reporter-Telegram/ File
1.

Chromecast

Chromecast is Google's low-cost answer to TV streaming. The whole systems runs off a $35 dongle. Simply plug in the device to your TV and access Chromecast via your wireless network.

How it works: Videos are stored in Google's Chromecast cloud, and are streamed over the Internet. This means that you can watch a TV show, control it with your Wi-Fi-enabled devices – i.e. cellphone, laptop, or tablet – switch between various potential remotes, and not interrupt your viewing.

Supported Apps: Netflix and YouTube. Pandora is coming soon.

Mirroring: You can only mirror – or sync what is on your computer screen with what is on your television – if you are using Google's Chrome web browser.

Price: $35

Where can you buy one: Online at Google's Play store, BestBuy.com, or Amazon.com

Compatibility: iOS, Mac OS X, Android, Windows, and Chrome OS

Remote: Your Wi-Fi-enabled devices act as a remote.