8 great college apps for back-to-school
As the Fall semester for college gets underway in most states and bills stack up after buying new supplies, at least there are some inexpensive apps for iOS and Android that can help ease the load and keep students organized.
While there's no across-the-board substitute for pricey textbooks (yet), students may find that cheap and even free apps can ease the fiscal burden as well as make many tasks more manageable.
From apps that help find the best sources for research papers to one for better scheduling, here are 8 great back-to-college apps.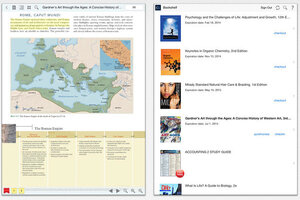 CourseSmart/iTunes
1.

CourseSmart

This app can actually save money on textbooks because it allows the user to view the full text of more than 7,000 textbooks on an iPhone – for free.

Beware that this service is free up to a point. It makes its money through licensing these e-textbooks to customers. Each rental expires after a certain period, typically about 180 days. On the upside, CourseSmart says these e-books can cost about half as much as their print equivalents.

Cost: Free to try. Textbook prices vary by title.