Cedar Point named best amusement park: Five theme park winners
Cedar Point amusement park in Sandusky, Ohio, has been named by the theme-park trade publication Amusement Today, as the best amusement park for the 13th straight year. Amusement Today also bestowed 24 other "Golden Ticket" awards to parks and rides around the United States. Here are some highlights.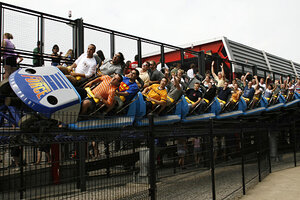 1.

Best Amusement Park: Cedar Point, Sandusky, Ohio

Dubbed "The Roller Coaster Capital of the World," Cedar Point holds the world record for the most roller coasters in a single amusement park, with 17, and the only amusement park with four coasters taller than 200 feet. One of these, the 300-foot high Millennium Force coaster, won Amusement Today's award for Best Steel Coaster. At its top speed, the Millennium Force hits a breathtaking 93 miles per hour.