6 memorable moments from the Tony Awards
Broadway celebrated its biggest night again last night with the American Theatre Wing's Tony Awards, which honored the best in acting, directing, and behind-the-scenes work as well as other awards. Host Neil Patrick Harris guided the show for the third time, while top honors were taken by the musical 'Once' and the play 'Clybourne Park.' Here are 6 of the best moments from the ceremony.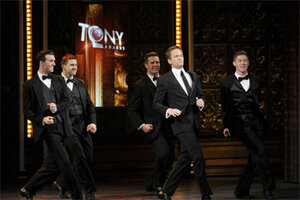 1.

Host Neil Patrick Harris's opening number

Harris has become known for the song-and-dance numbers he performs during the awards broadcasts, and he opened the show with a song that wondered what life would be like if it was more like a musical, with cameos by "Les Miserables" actress Amanda Seyfried, Broadway legend Patti LuPone, "Modern Family" actor Jesse Tyler Ferguson, and others. "What if no one thought that there was something strange about a magical seven-second costume change and then apropos of nothing, there were crazy dance routines?" Harris sang.