9 quotes from Ted Williams on his birthday
Of all the baseball greats who've played for the Boston Red Sox, Ted Williams is the one most synonymous with the franchise. The San Diego native played his entire 22-year career with the team, was a close friend of owner Tom Yawkey, and was a hitting perfectionist who won six American League batting championships. Not surprisingly, Boston fans still speak reverently of the war veteran who twice interrupted his career to serve as a military pilot. The city has honored him with the busy Ted Willams Tunnel. At the plate, the Splendid Splinter compiled an incredible .344 lifetime average and batted .406 in 1941, when he became the last player to ever hit .400. In 2002, Williams died in Florida, where he spent his retirement.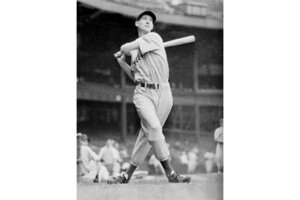 1.

Aiming high

"A man has to have goals for a day, for a lifetime. And that was mine, to have people say, 'There goes Ted Williams, the greatest hitter who ever lived.'"