10 quotes from NFL quarterback Terry Bradshaw
Terry Bradshaw so loves Louisiana Tech, his alma mater, that the Hall of Fame quarterback donated all four of his Super Bowl rings to the university. A native of Shreveport, La., he entered the National Football League in 1970 when the Pittsburgh Steelers, coming off a 1-13 season, made him the No. 1 overall draft pick. It took a while for Bradshaw to adjust as a pro, but once he and the vaunted Steel Curtain defense hit their stride, Pittsburgh emerged as one of the greatest teams of all time, winning four Super Bowls in a six-year span. Bradshaw is now a talkative NFL studio analyst for Fox who projects a good ol' boy image.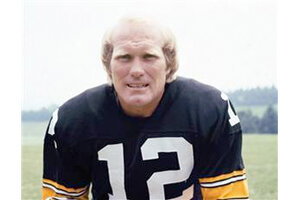 1.

Tall in the saddle

"Imagine yourself sitting on top of a great thoroughbred horse. You sit up there and you just feel that power. That's what it was like playing quarterback on that team [the Steelers]. It was a great ride."