Javascript is disabled. Quiz scoring requires Javascript.
The Beatles: How well do you know the Fab Four? Take the quiz.
Over fifty years ago, a moptop crew of Liverpudlians known as The Beatles stepped off a plane at JFK International Airport, where thousands of screaming teenagers and hundreds of reporters and cameramen awaited their arrival. The year was 1964 and Beatlemania had already started to sweep America, but no one – probably not even The Beatles – was fully prepared for the profound mark that the foursome would make on the music world, both in Britain and the United States.
Nearly every musical hit on the charts today bears echoes of The Beatles' influence, and the public appetite for Beatles tunes still persists. iTunes sold 2 million Beatles songs in the first week that the digital music website offered their catalog, a full four decades after the band broke up. Many would argue that they are the greatest band of all time.
How much do you know about The Beatles? Test your knowledge of the Fab Four with our 25-question quiz.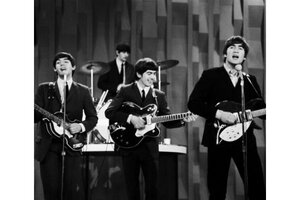 Dan Grossi/AP Photo, File
1.

Which member of The Beatles was the last to join the band?