Harry Potter play previews in London: Will J.K. Rowling's magic endure?
Theatergoers are talking about Harry Potter and the Cursed Child Part One, but J.K. Rowling asks them not to spoil any surprises.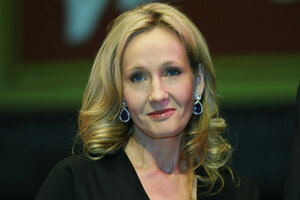 Lefteris Pitarakis/AP/File
The boy wizard who charmed the world is back.
This time Harry Potter, the protagonist of J.K. Rowling's 7-part series of novels, is an adult, with three children and a taxing job at the Ministry of Magic. And his story is no longer bound in dogeared copies of Rowling's novels: instead Harry and his cadre have come to life again onstage at London's Palace Theatre.
Roughly 1,500 theatergoers, some dressed for a day at Hogwarts, waited in line on Tuesday night for a preview of Part I, with Part II of the much-anticipated play set for Thursday night. And when the curtain rose, they were treated to the stage recreation of Hogwarts, special effects simulating magic, real-live owls (one of which went off-book during the performance to fly around the auditorium), and the mental work of having to reconfigure Harry, Ron, Ginny, and Hermione into adult roles.
The question hanging in the air before the show was, of course, will the magic continue? And while the previews are not officially review nights, verdicts are out from those with tickets and across Twitter.
Theatre-goer Katie Bitter of Washington DC, told the BBC: "I was a little worried it wouldn't meet my high expectations but tonight was absolutely amazing. It didn't feel like a preview at all."
"It was even better than I thought it would be," Iman Khabl of Edinburgh told the New York Times. Ms. Khabl appreciated the references to details in the original book series. "It was such a nice nudge to the fans, that they brought everyone back, that they kept our favorite characters while bringing in so many other things."
The play's official debut is set for July 30, which diehard Potter fans recognize as the day before the Boy-Who-Lived's birthday. Tickets range from £15 to £65, and forty specially priced first-come, first-served tickets will be released every Friday.
With reduced-price previews running right up until the official premiere, Rowling has been coaching theatergoers to be careful not to spoil the play for those who who will see it during the regular season, using the hashtags #KeeptheSecrets and #DontBeWormtail, alluding to a double-crossing villain from the books.
That exigency will likely go out the window come 12:01 on July 31, when the play's script will be released as a two-part book. Rowling herself is not the playwright; instead English playwright Jack Thorne wrote the script, which is based on a story written by Rowling, Thorne, and theatre director John Tiffany.
This is not the first time that Rowling has contributed to the wizarding world since the last Potter book was released in 2007 (and became the fastest-selling book of all time). She's also released three secondary books related to topics in the novels, but the play, by far, is her largest contribution since then to a fantasy world that that launched Rowling into the hearts of readers. 
And the world, apparently, was waiting for more – the script is already number one on Amazon's pre-order list and the play tickets are sold out until May 2017.