Top picks: 'Casino Jack,' Martha Stewart, Museum Day, and more
'Casino Jack' documentary about Jack Abramoff out on DVD, Martha Stewart now on Hallmark Channel, free pass to museums on Museum Day Sept. 25, and more recommendations.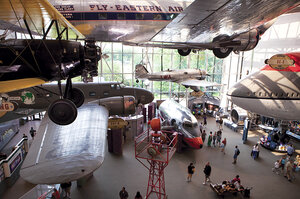 Melanie Stetson Freeman/Staff /File
A story of corruption
The title of Alex Gibney's newest documentary, "Casino Jack and the United States of Money," says it all. Superlobbyist, Republican wheeler-dealer, and convicted felon Jack Abramoff may seem like old news right now, but what he represents is all too evergreen. Gibney, best known for "Taxi to the Dark Side" and "Enron: The Smartest Guys in the Room," is very good at chronicling corruption. Abramoff's machinations pulled in everybody and everything from Tom DeLay to Patrick Kennedy to native American tribes to the sweatshops of the Marianas Islands. He was an equal-opportunity blight. Out on DVD Sept. 7. (Rated R.)
Bouncy blues
Eden Brent's new CD, "Ain't Got No Troubles" (Yellow Dog Records), holds a dozen songs that will have you smiling if not singing and jumping to your feet in a spontaneous boogie-woogie. A classically trained musician who apprenticed for 16 years with blues pioneer Abie "Boogaloo" Ames, Brent plays and sings as if she never left a 1920s juke joint, but laces the music with a modern joy, flair, and wordsmithing savvy. Songs include: "In Love With Your Wallet," "My Man," "If I Can't," and the title track.
Take a free pass
On Sept. 25, Smithsonian magazine's sixth annual Museum Day, participating museums and cultural institutions nationwide will open their doors free of charge to all visitors who download the Museum Day Ticket from www.Smithsonian.com/museumday.
Martha's on the move
Martha Stewart has taken up residence at the Hallmark Channel on basic cable and her new eight hours of weekly programming debuts Sept. 13. Watch for her signature food-and-lifestyle hour, "The Martha Stewart Show," and the first of a series of interview specials, focusing on four fashion icons: Donna Karan, Diane Von Furstenberg, Tory Burch, and Jenna Lyons.
Gourmet revival
When Condé Nast folded Gourmet magazine last fall, foodies were in disbelief that such an iconic title could disappear overnight. But all is not lost. On Sept. 7, a 120-page "Gourmet Quick Kitchen" will appear on newsstands, the first of three issues by Condé Nast featuring classic recipes from the magazine plus new kitchen tips and eight full menus.
Major musical talent
The Celtic Tiger may be dead, but music will rightfully always be a source of pride on the Emerald Isle. The documentary "Music of Ireland – Welcome to America" picks up where last spring's predecessor "Welcome Home" left off. Legendary contemporary Irish acts U2, Glen Hansard, Sinéad O'Connor, and others talk about trips to the principal's office, busking on Grafton Street, and making it big in the US. The interviews reveal a refreshingly intimate side of the culturally permeating lasses and lads. Out on DVD Sept. 17 and airing on PBS in September (check local listings).