Top Picks: Greil Marcus's 'Real Life Rock,' the podcast 'The History Chicks,' and more
President Obama appears on the web series 'Comedians in Cars Getting Coffee,' the documentary 'In Football We Trust' looks at Salt Lake City teenagers trying to make it to the NFL, and more top picks.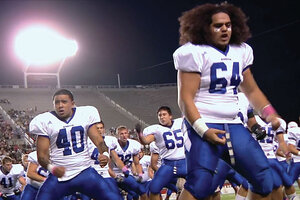 PBS
Island dreams
Millions of viewers get to know National Football League players, but how did the players get to these famous fields? The film In Football We Trust explores the boom of Polynesian players in the NFL, examining in particular the Polynesian population in Salt Lake City and the number of football players who have come from there. It airs on PBS's "Independent Lens" on Jan. 25 at 10 p.m. Check local listings. (Viewers should be aware of adult language.)
Tales of rock
For nearly three decades Greil Marcus has entertained, provoked, and inspired fans of music and incisive social commentary. Real Life Rock is a 586-page compilation of his weekly "Real Life Rock Top Ten" columns from 1986 to 2014. For the uninitiated, Marcus is as likely to train his discerning gaze on a subway busker using a spare-change-filled coffee cup to create a Motown-worthy groove as he is to wax poetic on Adele or Lady Gaga. But whatever he deems worthy ... is.
Herstory
Want to hear stories of ingenuity and derring-do along with experiencing a few head-slapping moments of "I didn't know that"? Then check out the podcast The History Chicks from Beckett Graham and Susan Vollenweider. They have been sharing the back stories of famous women (and a few fictional characters) since 2011 so their archive and additional learning material is vast. New episodes are posted twice a month. Find it at thehistorychicks.com. 
Presidential corvette
President Obama helps Jerry Seinfeld kick off Season 7 of the online comedy series Comedians in Cars Getting Coffee. After a short spin in the driveway at 1600 Pennsylvania Avenue in a 1963 Corvette Stingray (getting POTUS off the premises proved problematic), the pair retreats to a White House basement cafeteria. Some tongue-in-cheek banter with the leader of the free world is about as real as it can get. Check it out at http://bit.ly/SeinfeldandObama.   
Downton quiz
As the sixth and final season of Downton Abbey gains momentum (the final episode airs March 6) you can test how much you have absorbed about the aristocratic Crawley family and their servants since 2010. Take the Monitor's quiz at http://bit.ly/downtonabbeyquiz.