Javascript is disabled. Quiz scoring requires Javascript.
Quiz: How well do you know 'Hamilton'?
The musical "Hamilton" has become a cultural phenomenon since opening on Broadway in 2015. The show, which depicts the life of Founding Father Alexander Hamilton, won various Tony Awards, including Best Musical for writer and composer Lin-Manuel Miranda and Best Actor in a Musical for Leslie Odom Jr.
How well do you know the popular musical? Try our quiz!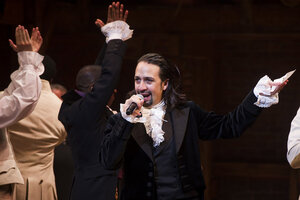 Charles Sykes/Invision/AP
1.

In the song 'Alexander Hamilton,' how many things does Alexander say he hasn't done yet?