'The Muppets' is a charming, sweet movie for all ages
(Read article summary)
'The Muppets' has catchy musical numbers, well-placed celebrity cameos and genuinely funny jokes.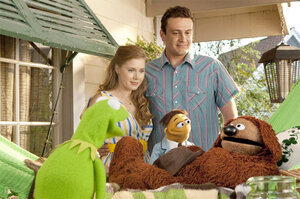 Patrick Wymore/HONS/Disney/AP
5/5 stars
One good way to entertain your family during the holidays is to take them to see The Muppets, the latest (and long-awaited) film to feature that familiar gang of puppets, starring Jason Segel (Forgetting Sarah Marshall), who co-wrote the script with Nick Stoller (Sarah Marshall director and fellow collaborator from the Judd Apatow camp). I cannot, for the life of me, imagine how Segel convinced the Walt Disney Company to give him the responsibility of reviving the franchise (their last film, Muppets from Space, came out in 1999). But they must certainly be patting themselves on the back now. Segel, Stoller, and director James Bobin (Da Ali G Show, The Flight of the Conchords), offer us a fun, old-fashioned, comical adventure, as well as a sweet and touching tribute to the Muppets.
The plot initially revolves around brothers Gary (Segel) and Walter (who is, by some genetic miracle, a Muppet) who visit the old, abandoned Muppet studio only to discover that Tex Richman (played strangely by Chris Cooper), as the name might suggest, has an evil plan to tear down the studios and drill for oil! Walter, the Muppets #1 fan, alerts Kermit to Richman's motives. Not surprisingly, the only way to raise enough money to keep the studio is to get the gang back together for one more show.
Muppet make-over: Kermit the Frog, Miss Piggy reintroduced this fall
Why do the Muppets seem to disband after every film? Well, because watching them find each other again is half the fun. Miss Piggy is now some big wig at the Paris Vogue office. Gonzo is a toilet business magnate. And poor Fozzie is doing renditions of Kermit's famous song, "Rainbow Connection," with look-a-like band, the Moopets. No worries — we get to hear the real "Rainbow Connection," along with a bunch of new and instantly catchy songs, throughout the movie.
And like any Muppet movie, this one is chock full of (well-placed) celebrity cameos, including Alan Arkin, Zach Galifianakis, Sarah Silverman, Mickey Rooney, Feist, David Grohl and a handful more that are best left to be discovered while watching.
I wasn't sure I'd be convinced by Jason Segel in the lead (people) role. Usually, when he plays silly, it's the lead-in to raunchy. After a few initial scenes (mostly, after he broke into song and dance), you can move past this and accept the innocence of his silliness. While he doesn't make a huge impression — it seems he wrote the majority of jokes for the other actors — this doesn't detract from the film. When he makes a splash, it's a big one; otherwise, he does a nice job supporting everyone else.
Amy Adams plays Gary's bright (in terms of both attitude and wardrobe) girlfriend who often takes a backseat to his relationship with his brother. Adams is so at home playing the good girl in musicals (Enchanted) — she nails the singing, the dancing and that wholesome look — that it reminds me of how great she was in The Fighter, playing the very opposite of good-natured cheerfulness.
But the show belongs to Kermit and the rest of the Muppets. One thing the film's creators do beautifully is incorporate authentic pieces of nostalgia throughout. From 80s kid toys (oh, how I always dreamed of getting the butler robot) to the gigantic wood-paneled TV console on which young Gary and Walter watch the original Muppets show, I had to wonder whether the set designers raided my grandmother's house. I sat silent, in wide-eyed wonder as the camera panned over old, familiar photos of the Muppets with various celebrities like Florence Henderson and Johnny Carson. My eyes started to water when the Muppets theme song kicked in towards the end. Either I'm a sap or these guys really know how to reminisce.
The Muppets contains a million, bust-out-loud laughs too good to give away as well as a contagious optimism and some nice life lessons thrown in to boot. It manages to poke fun at itself without being snide about it. The few flaws (sadly, Chris Cooper is just a little too weird) are easily forgivable in the face of everything else it offers, making this movie perfect for adults and their little ones.
Allison S. blogs at Meet In the Lobby.