Marcia Gay Harden will replace Rosemarie DeWitt on 'The Newsroom'
(Read article summary)
Harden will play a lawyer working for the cable news company depicted on the Aaron Sorkin show. Harden replaces DeWitt, who had previously signed on to play the role of attorney Rebecca Halliday.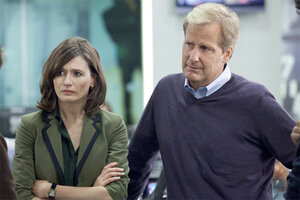 Melissa Moseley/HBO/AP
Marcia Gay Harden will join the cast of the Aaron Sorkin HBO series "The Newsroom" after actress Rosemarie DeWitt bowed out.
Harden is replacing DeWitt in the role of Rebecca Halliday, a lawyer who works for Atlantis Cable News, the company on which the show focuses, after it's sued for wrongful termination.
DeWitt left the show because of scheduling conflicts, according to TheWrap.com. Halliday will be a recurring character on the show.
"Newsroom" will return for its second season this June, according to Sorkin.