'Star Wars: The Force Awakens': Fans react to its premiere
(Read article summary)
'Force' premiered in Los Angeles on Dec. 14. The movie features the return of original 'Star Wars' actors like Harrison Ford, Carrie Fisher, and Mark Hamill as well as new actors like Daisy Ridley and John Boyega.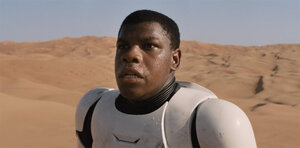 Disney LucasFilm/AP
With the Los Angeles premiere of the film, the world got its first real look at the upcoming movie "Star Wars: The Force Awakens." 
"Force," which stars original series actors Harrison Ford, Carrie Fisher, and Mark Hamill and includes new faces like Daisy Ridley and John Boyega, premiered in Los Angeles on Dec. 14. It's set to open nationwide on Dec. 18. 
Some celebrity fans who attended shared their initial reactions on Twitter.
So how will everyone else react to the new movie? As "Star Wars" fans know, we've been here before. In 1999, one of the most anticipated movies of all time, the kick-off to a new "Star Wars" series, debuted, but while it became one of the highest-grossing films of all time, "Star Wars: Episode I – The Phantom Menace" was not well-received by fans of the original movies or critics. 
What's different this time around? "Phantom" was based on a pre-existing story, with fans aware that the movies would be telling the story of how Darth Vader became one of the most famous screen villains of all time. 
This time, while those behind "Force" may have been inspired by the novels and other materials written about the post-"Star Wars: Episode VI – The Return of the Jedi" world, the new movie is an original story.
In addition, original actors such as Ford, Fisher, and Hamill are returning rather than the new film being carried by a cast of newbies to the franchise. 
Talent has changed behind the camera as well, with "Star Wars" director George Lucas, who directed and wrote all three prequel movies, not as involved with "Force." "Force" is directed by J.J. Abrams of the "Star Trek" film series and written by "Star Wars: Episode V – The Empire Strikes Back" co-writer Lawrence Kasdan, "Toy Story 3" writer Michael Arndt, and Abrams. 
"Force" also arrives in a Hollywood that is enamored with the reboot. Properties from "Teenage Mutant Ninja Turtles" to "Spider-Man" have recently been reinvented. Remakes and sequels were a common part of 1999 Hollywood (one of the highest-grossing movies of the year was a remake of the horror movie "The Mummy"), but the model of reinventing a franchise as frequently as it is done now (and within a short amount of years) hadn't quite taken hold beyond series like the "Batman" movies. 
This reboot strategy can result in badly received films like the newest "Terminator" movie "Terminator Genisys," which came out this summer, but it can also revitalize a franchise. The first movie in Abrams' own "Star Trek" film series, which was the first "Trek" film in seven years, was well-received by fans and critics alike. Abrams' second "Trek" movie, "Star Trek Into Darkness," was less well-received, however.
The superhero craze had also not yet fully taken hold when "Phantom" debuted, so Jedis didn't have to battle with caped fighters for box office records. In order to become the highest-grossing movie of the year, "Force" is going up against such movies as "Avengers: Age of Ultron."
The "Star Wars" series remains a more fanciful presence at the box office, though, because despite the fact that superhero movies have protagonists battling villains like "Star Wars," the "Star Wars" films have their outer space setting to draw in fans, while most of the current superhero movies take place in areas like New York (though the space-set Marvel movie "Guardians of the Galaxy" was an exception).