Oscars 2016: Predictions and is this the year of the female protagonist?
(Read article summary)
What movies will win at the Oscars this year? Here are our picks. Meanwhile, screenwriter Nick Hornby's movie 'Brooklyn' is the third movie written by him in recent years with a female protagonist that has gotten awards season attention.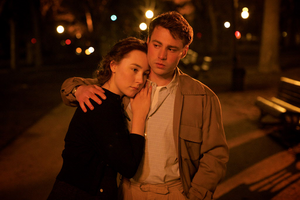 Kerry Brown/Fox Searchlight/AP
As the Oscars approach, what movies will be big winners this year? 
This year, movies such as "Spotlight," "The Big Short," "The Revenant," and "Mad Max: Fury Road" are battling it out for some of the top prizes, and the Best Picture race in particular is being called difficult to predict. 
Fans of actor Leonardo DiCaprio will probably be pleased by the results of the Best Actor Oscar race, as DiCaprio will most likely win the statuette for his work in the movie "The Revenant." In "Revenant," DiCaprio portrays real-life trapper Hugh Glass, who is injured by a bear and left behind by his companions. He's been nominated four times before for his acting and he won the Screen Actors Guild Award for best actor and the Golden Globe for best actor in a drama, so expect to see him going up onstage at the Oscars on Feb. 28. 
DiCaprio's fellow nominees include Eddie Redmayne for "The Danish Girl," Michael Fassbender for "Steve Jobs," Matt Damon for "The Martian," and Bryan Cranston for "Trumbo." 
The Best Actress winner seems similarly assured. Brie Larson, who received her first Oscar nomination for "Room," portrays in the film a woman who is held captive for years with her son. She won both the Screen Actors Guild Award for best actress and the Golden Globe for best actress in a drama as well. 
Larson is nominated alongside Saoirse Ronan for "Brooklyn," Charlotte Rampling for "45 Years," Jennifer Lawrence for "Joy," and Cate Blanchett for "Carol." 
The best supporting actress prize is a bit tougher to call. Actress Alicia Vikander, who received her first Oscar nomination this year, won the Screen Actors Guild award in the category for her work in "The Danish Girl," in which she plays Gerda Wegener, the wife of one of the first known people to undergo gender reassignment surgery. But previous Oscar winner and nominee Kate Winslet won the Golden Globe for best supporting actress for the film "Steve Jobs" for her role as Apple employee Joanna Hoffman. However, Vikander was in the lead actress category for "Danish" at the Golden Globes and she should take the Best Supporting Actress Oscar. 
Vikander and Winslet's fellow nominees are Rachel McAdams for "Spotlight," Rooney Mara for "Carol," and Jennifer Jason Leigh for "The Hateful Eight."
For the best supporting actor Oscar, Idris Elba of "Beasts of No Nation" won the Screen Actors Guild award for best supporting actor, but he's not nominated for an Oscar. Sylvester Stallone, who has previously been nominated for an Academy Award (for the same role as this year, no less), won the Golden Globe for best supporting actor for the "Rocky" movie "Creed" and should win the Best Supporting Actor Oscar also. 
With competition fierce between the nominees for Best Picture, we may see again a split between who wins Best Director and what movie is named as Best Picture. 
Alejandro G. Iñárritu won the Golden Globe for best director and also won the corresponding prize from the Directors Guild of America. The winner of the DGA award very often lines up with the Oscar winner for Best Director. Iñárritu won last year for "Birdman" and should hear his name called again on Oscars night.
The other directors nominated for the award are George Miller for "Mad Max: Fury Road," Adam McKay for "The Big Short," Lenny Abrahamson for "Room," and Tom McCarthy for "Spotlight."
As for Best Picture, "Revenant" won the best picture – drama award at the Golden Globes, but perhaps Oscars voters will feel that Iñárritu is getting his due with the Best Director Oscar. If so, look for them to give the Best Picture award to the winner of the SAG award for best cast, "Spotlight."
Meanwhile, a movie written by Nick Hornby is nominated at the Oscars again. 
Why does this matter? Over the past several years, screenwriter Nick Hornby has gotten attention for adapting books with female protagonists into Oscar-nominated films. Last year saw his film "Wild," which starred Reese Witherspoon and was adapted from the memoir by Cheryl Strayed, get nominated in the Best Actress and Best Supporting Actress categories for Witherspoon and Laura Dern, respectively. 
In 2010, the movie "An Education," which was adapted from a book of the same name by Hornby and starred Carey Mulligan, was nominated for Best Picture, Best Actress for Mulligan, and Best Adapted Screenplay for Hornby. 
This year, the movie "Brooklyn," which was adapted by Hornby from a novel, is nominated for Best Picture and lead actress Ronan is nominated for Best Actress. Hornby is again nominated for best adapted screenplay. 
"Let's say you're a Hollywood producer with the rights to a sought-after property with a young, female protagonist," Noah Gittell of RogerEbert.com wrote as "Brooklyn" got attention. "Who do you hire to write the script? The answer, these days, is obviously Nick Hornby… his character-first approach has resulted in deeply-felt depictions of the female experience, none of which filter their characters through the male gaze. As it stands, Hornby may be the best writer of women in Hollywood." 
Hornby himself told the Los Angeles Times, "I only want to write books and movies about women."
"Brooklyn" stands alongside such fellow Best Picture nominees as "Mad Max: Fury Road," where female character Imperator Furiosa (Charlize Theron) takes center stage for much of the film, and "Room," which centers on an imprisoned mother (Larson) and her son (Jacob Tremblay).
A study released earlier this month by the Center for the Study of Women in Television and Film at San Diego State University found that the amount of female protagonists in the 110 highest-grossing movies in 2015 went up 6 percent from the year before.
Despite the growth of female protagonists, the Center found that there is still not a lot of diversity. In the 110 highest-grossing films last year, black female characters represented 13 percent, Latina characters 4 percent, and Asian female characters 3 percent. 
"The numbers were definitely moving in the right direction," study author Martha Lauzen told Variety about the rise in female main characters. "What is not clear is whether or not 2015 was a bit of an anomaly or whether this is the beginning of a longer-term trend."