Batman v Superman': What critics are saying, where studio goes from here
(Read article summary)
Critics largely did not enjoy 'Batman,' which opens on March 25. Will this affect studio Warner Bros.' plans for its superhero movies?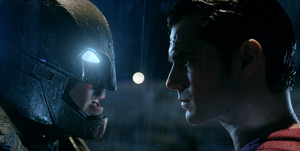 Warner Bros. Pictures/AP
Critics have weighed in on the upcoming superhero film "Batman v Superman," which stars Ben Affleck, Gal Gadot, and Henry Cavill and opens on March 25.
"Batman" features the return of Mr. Cavill as Superman and is the debut of Mr. Affleck and Ms. Gadot as Batman and Wonder Woman, respectively. The film finds Batman and Superman battling over ideas of how a hero should act. 
The movie is directed by Zack Snyder and has been publicly positioned as the possible beginning of a franchise, one that could be similar to the Marvel superhero movies. Snyder is already signed up by studio Warner Bros. to make at least one movie about the Justice League, which in the comics includes Batman, Superman, and Wonder Woman.
So what are reviewers saying about this possible start to a movie series? 
Reviews so far are poor. One of the more positive ones, which is written by Richard Roeper of the Chicago Tribune, wrote that the movie goes "from great to good."
"[It has] just the right amount of dark humor [and] strong performances," Mr. Roeper wrote, and even "when it drags, it still looks good and offers hints of a better scene just around the corner."
And Los Angeles Times writer Kenneth Turan writes that the film "does go on too long," but that Affleck "convincingly play[s]" Batman and is "committed," while the story has some "deft notions" like positioning Batman's city of Gotham and Superman's Metropolis near each other. "It's a nice echo of Warner's past as a home to gangsters and gritty melodramas to find its DC world operating very much on the dark end of the street," Mr. Turan writes.
But Alonso Duralde of TheWrap found the movie to be "sludgy," writing, "[The] face-off between two comics legends becomes but one in a series of big things bashing into other big things, which is what Snyder and writers Chris Terrio and David S. Goyer mistake for storytelling. The trio do manage to cough up an acceptable number of ooh-that's-cool moments, and fans who will be satisfied with those will be satisfied with those, but any other ideas and characters the movie might offer get lost in the rubble." However, Mr. Duralde found Gadot's Wonder Woman to "inject … some real vitality."
And A.O. Scott of the New York Times wrote that the film is "about as diverting as having a porcelain sink broken over your head (one of the few amusing things that happens onscreen) … overstuffed and preposterous." 
So what does this mean for the future of DC Comics movies as made by Warner Bros.? Scheduled films most likely aren't going anywhere. Many are predicting big things for the movie at the weekend box office, with Forbes writer Scott Mendelson writing, "The anticipation for this one has been insane among the faithful, and the only risk is that it fills up too much demand (especially if the film isn't general audience-friendly) before the first official day … In [a] nightmare scenario, the sequel earns $52m on Friday … for a $100m-$110m debut weekend.  It will be the first occasion where a $100m+ weekend was, fairly or not, heralded as an outright disaster, but there you go." 
"Man of Steel," the Superman film before this one, wasn't liked by critics either, but Warner Bros. still moved forward with plans for "Batman v Superman" and the other upcoming DC Comics superhero films.
Warner Bros. also probably doesn't want to stop its plans for a "Justice League" movie and other upcoming films. "Warner Bros. [has an] entire DC Comics slate lined up for the next five years," Entertainment Weekly writer Anthony Breznican noted. 
If "Batman v Superman" does well at the box office, Warner Bros. will most likely continue with its plan for a DC Comics franchise as it did following poor reviews but positive box office for "Man of Steel." 
"Somewhat grim reviews won't necessarily mean this epic caped hero battle will struggle at the box office," Variety writer Maria Cavassuto wrote.