Tax day: 8 top tax breaks for parents on tax deadline
The tax deadline looms, and for many Americans this means crunch time for calculating tax deductions, gathering W-2s, and searching for as many tax breaks as possible
Not in my house. No, here we have had our tax returns finished and filed for months. I say this not smugly, but with bewilderment.
This is not my doing. See, I am a tax procrastinator. I believe tax extensions are to be used indefinitely, if possible. (But only if legal, of course. In case the IRS is reading.) My husband, on the other hand, loves doing our taxes. Loves it. He pours over the IRS website with glee. (The first time I encountered this strange behavior I asked if there was a problem with our relationship. Now I know better.)
Anyhow, this year Christopher was extra excited because he had a whole new area of tax law to explore: the dependent child. A.k.a. our baby. As it turns out, there are a bunch of tax benefits to having a kid. But if you're like me, the US tax code is not pleasure reading. So, as a public service from the Monitor's Modern Parenthood blog, we thought we'd spell out some of the top tax code nuggets to explore if you have children. But please, we're not tax experts. My goodness, no. So always check with your tax adviser before doing anything drastic.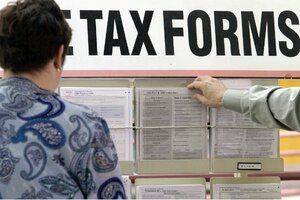 AP
1.

Child/dependent care credit

The child/dependent care credit. This one depends on your income. But if you have one child, you can get a credit of 20 to 40 percent of up to $3,000 of childcare expenses; that goes up to $6,000 if you have two or more children. The amount of the credit changes along with your family's adjusted gross income.