After graduation: Five real-world steps to success
Cindy Brown, author of the book "The Girls Guide to Swagger" and creator of the online community of the same name, once taught a class at the University of Colorado, Boulder called "Real World Planning."
It was a course formed in response to what she and some of her colleagues in the business world (and many of their professor friends) recognized as a lack of practical skills among the new graduates they saw looking for jobs. Many of these young men and women were eager and earnest, smart and motivated. But they were, well, clueless.
Sound familiar, parents? With graduation day around the corner, I caught up with Brown to ask her what her top tips would be for new graduates going off into the "real world."
Turns out Brown's advice is pretty good for the rest of us, too.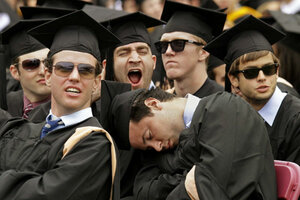 Stephan Savoia/AP
1.

Find your values

Brown says she always started her class with a question: "Do you know what's important to you?"

"It was always a little risky at the beginning," she said. "They didn't know me very well."

So she had her students go through a list of 50 values - everything from "love" to "financial security" to "continued learning." (For a list of some of Brown's values go to her blog Girls Guide to Swagger). She asked them to circle what was important to them. Then she'd have them identify their top 10, then their top five, and then one by one she'd ask students to throw away different values until one, core, idea remained.

"Think about what is in your hand," she'd say. "What did you keep hold of and why?"

She says she's gone back to her own list at different career turning points in her life.