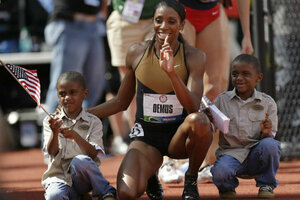 Marcio Jose Sanchez/AP
3.

Lashinda Demus – 400-meter Hurdles

After barely missing the Olympic team in 2008, by 0.14 second, Lashinda Demus wondered if being a mother would prevent her from competing in the 400-meter hurdles. She had suspended her training in 2007 when she gave birth to twin boys, Dontay and Duaine.

"It was a difficult time for me because I thought everything in my career was going to end," she told NBC Los Angeles. "I don't think at that time, being as young as I was that I knew you can kind of have both and do it all."

Ms. Demus entered the 2012 London Games, her second Olympics, as the world's fastest female hurdler. She will compete in the 400-meter hurdles finals on Aug. 8.

Demus won 400-meter hurdles the IAAF World Championships in 2011 with a time of 52.47, missing the world record by 0.13 second. (The current world record is 52.34 held by Russian Yuliya Pechonkina.) She also won the event in 2010 and placed second in 2009. Demus made her Olympic debut in Athens in 2004 but did not reach the finals.

Other career highlights include winning the World Championship with the 4x400 relay team in 2009. In 2002, she won the world junior championship and the NCAA outdoor championship while going to school at the University of South Carolina. She now trains with her own mother, Yolanda Rich.

Demus comes from a family with a history of twins: Her grandfather was one of 20 kids in a family that had four sets of twins.