Top 5 parenting tips for media literacy in preschoolers
Media literacy – that ability to think critically about the angles and agendas of on-screen content – can be taught to preschoolers. Modern Parenthood guest blogger Rebecca Hains, a children's media culture expert at Salem State University, in Salem, Mass., offers 5 parenting essentials for media literacy in preschoolers.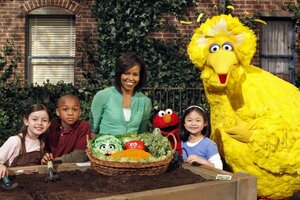 Sesame Workshop/AP
1.

Prescreen media

Preschoolers can have a hard time understanding that what's on screen is created by other people, and not just a window into some other location in the world. Media literacy experts assert that if we give children the tools to create their own media, they will better understand how mass media is created. They will know that other people have made decisions about what stories to tell, what shots to show on screen, and what words the characters will say – this kind of knowledge is truly a form of literacy.