America's 4 parenting cultures: Which one is yours?
Forget Tiger Moms and Bringing up Bébé. Forget even the attachment parenting versus cry-it-out debate. To really understand childrearing in the United States, researchers with the University of Virginia say, take a look at the country's "Four Family Cultures." These different groups, which scholars detailed as part of the Culture of American Families Project (an initiative of the university's Institute for Advanced Studies in Culture) are more than parenting styles. They are moral ecosystems; whole belief structures that shape parents' aspirations for their children and influence what parents teach as good and bad.
These "Four Family Cultures" are quite different from one another. While 96 percent of American parents say a "strong moral character" is very important, if not essential, to their children's future, researchers found that parents are also tremendously divided in their concepts of "family values."
So where do you fit in?
– Stephanie Hanes, Modern Parenthood Blogger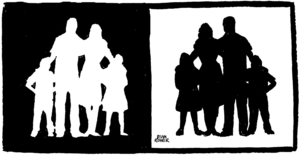 Dean Rohrer/Newsart
1.

The Faithful

Twenty percent of American parents are The Faithful.

"Faithful" parents believe that morality is defined by a divine, external source, and that families are places to replicate God's timeless truths. "Faithful" parents believe that happiness is less important than moral clarity and they are less likely than other parents (27 percent compared with 62 percent) to say that "we should be more tolerant of people who adopt alternative lifestyles."

Faithful parents tend to disagree strongly that sex before marriage is ever acceptable (two-thirds of them say this), while 7 out of 10 say birth control should not be available to teens without parental approval. They believe their children share these values – the vast majority believe their own kids have not had sex, and will not have sexual relations before marriage.

They pray with their children, are more inclined than other parents to believe in spanking, and are far more secure in their ability to control their teenagers' access to technology. While half see a "strong decline" in American moral and ethical standards since they were children, and are more likely than other parents to believe that public schools are negative influences, they generally believe their own children are following a moral path. Four out of five Faithful parents attend weekly religious services, and more so than other parents they feel supported by their communities.

While most say that mothers should put their husbands and children ahead of their careers, they say the same thing for dads – and they are less likely than other parents to agree that "the mother's role in raising children is more important than the father's."

The demographics: Two-thirds of Faithful parents are white, 16 percent are Hispanic and 11 percent are black. They are concentrated in the South, are far more likely to be Republicans than Democrats (51 percent to 13 percent) and have an average education level (36 percent have completed a college degree, compared with 32 percent of other parents.) Eight-eight percent are married, and 74 percent are in their first marriage. (They disagree far more than other parents that divorce is preferable to an unhappy marriage.) Faithful families are larger than average, with a quarter having four or more children.