The Harbaugh way: 4 tips for parenting past sibling rivalry
Super Bowl XLVII is extra important for our little family this year.
Our Baltimore Ravens are playing, of course. And this is likely hometown hero Ray Lewis's final, snarling appearance before he retires. All causes for purple pride, for sure.
But that's not why we'll be watching so intently.
No, for us the Super Bowl – or HarBowl, if you will – is of extra interest because of that personal story sports fans have been reading about (ad nauseum, some might say) ever since it became clear that the Ravens, coached by John Harbaugh, will battle with the San Francisco 49ers, led by John's brother, Jim Harbaugh.
See, we're expecting Baby Two shortly before kickoff. (That's when she's due, at least; we recognize the odds of pinpointing that timing is a heck of a lot tougher than predicting the coin toss.) And the looming realization that we will soon have two babies has sent us scrambling to come up with a game plan for yet another challenge in the rough-and-tumble playing field of child rearing: Sibling Rivalry.
But fortunately, we can count on the Harbaugh brothers to help us out. After all, what better way to get the growing family started on a right direction than taking some lessons from HarBowl 2013?
In case you feel the same, I thought I'd share our Top Four Ways to Tackle Sibling Rivalry, courtesy of the Harbaughs.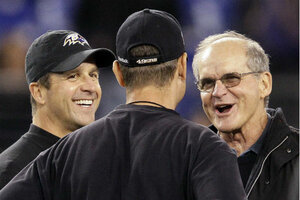 Associated Press
1.

Siblings don't need to be treated exactly alike.

A number of parenting experts write about this one. They say that parents fall into a trap when they try to treat their kids completely equally, whether it's buying matching pajama sets or dishing out perfectly measured ice cream scoops or counting the minutes to make sure one sibling doesn't get more one-on-one time than the other. More important, writes Lawrence J. Cohen in his award winning book "Playful Parenting," is to give each child what he or she needs.

If one sister needs new shoes, then she should get new shoes without the other also expecting a pair. If Brother needs a lot of help with a homework assignment, then Mom should feel free spending extra time with him – and then explain to Sister why this was important to him. (And then perhaps ask Sister what would be important to her.)

"The demand for perfect equality is a setup for disappointment," Mr. Cohen writes.

After all, just take a look at the Harbaughs. Born 15 months apart into a sports-crazed family, John and Jim took different paths through football. Jim played for 15 years as a quarterback but never made it to the Super Bowl; John never played professionally but has been a longtime coach. We're quite sure that dad Jack Harbaugh, himself a longtime college football coach, had different advice for each son, depending on their particular circumstances.