Girl, 6, crashes car driving cross-town to visit her dad
Girl, 6, crashes car: A Pittsburgh girl started her mother's car and drove off to visit her dad across town Feb. 4. She hit two parked cars, but no one was hurt, police said.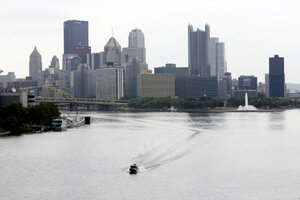 Associated Press
Pittsburgh police say a determined 6-year-old girl didn't hurt anyone when she crashed her mother's car while trying to drive across town to visit her father.
Police haven't released the name of the girl whose mother was reportedly still sleeping when the girl took the woman's car keys about 9 a.m. Sunday.
Police Sgt. Jerry Parker tells reporters the little girl is tall for her age, but adds: "How she knew how to operate a car, your guess is as good as mine."
Police say the girl hit two parked vehicles, pushing one of them into a third, before hitting a utility pole.
Police and the girl's father arrived to take her home after the accident.
Police are still investigating but haven't said if anyone will face charges.