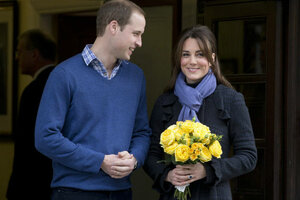 AP
2.

Baby name game

The most obvious question on everyone's mind: What will the royal couple name the baby?

Kate and Prince William have taken a notably modern approach to their marriage. (See No. 6 in this list.) So there's a chance they'd snub tradition. But, then again, traditional names remain popular in the UK and the couple may take a more populist approach to naming what is likely to be the nation's new royal obsession.

Traditional names like William, Charles, George, Henry, and James all made the top 25 on a measure of the top 100 boys' names in 2012 England, compiled by Baby Centre.

As for girls, the names Charlotte and Alice are popular middle names among the royal family, making them real contenders. However, the more traditional options – including Elizabeth, Mary, and Victoria – are still in favor with the populace.