Royal baby photos: Monarchs of the modern age ... when they were cute
With the birth of Kate Middleton and Prince William's first child, the royal baby, regardless of gender, takes its place as third in line to the throne. He or she will be called His or Her Royal Highness. This is a new idea in part. Never before has a female born to the Prince of Wales been titled Her Highness. The new title, set in law by Queen Elizabeth II this year, is a break from tradition, and the British Monarchy is loaded with tradition and history: Since 1066 and the reign of William the Conquer there have been 41 British monarchs.
But history is boring and old and royal babies are new and exciting. Lets combine the two – royal babies through history. Here are photos and paintings of some memorable modern monarchs – from roly-poly Victoria, who gave us the stuffy term "Victorian," to second in line to the throne today, young William.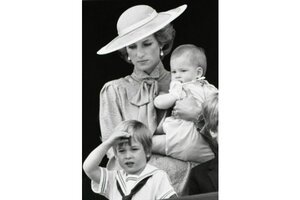 Roy Letkey
1.

Prince William

Prince William, now 31, is going to be a father soon. The media circus surrounding him and particularly his wife Kate Middleton has trebled since Buckingham Palace announced Kate was pregnant.

A Royal Air Force pilot, William will leave the service in 2014, according to The Daily Mail. His career in the RAF began in 2009, after three years in the Army. In 2009, he earned the rank of Flight Lieutenant and started helicopter training in order to become a full-time pilot with the Search and Rescue Force, as reported in The Christian Science Monitor. After he completed his training, he became co-pilot on rescue missions on board the Sea King helicopter. In William's last rescue mission, in 2011, he saved two sailors during an operation in the Irish Sea.

This photo of a young Prince William saluting the troops foretold the military service his position would require one day.