Nelson Mandela on children and family: Top 12 passionate quotes
From his beloved childhood in the Transkei hunting, stealing hot corn on the cob, and sitting at the feet of village wise men, to his post-imprisonment donations of half his salary to impoverished children, Nelson Mandela has always had a passion for supporting the innocence of childhood and the importance of family.
Throughout the South African leader's political career and private life he emphasized the importance of the role that children play for his country, and for the globe.
After being released from prison, Mr. Mandela – who had six children of his own by two of his three wives – has championed respect for children's rights as hard as he fought against apartheid.
Mandela was honored with the World's Children's Prize in 2005 and he was later named Decade Child Rights Hero in 2009. In 1994 he founded his own children's foundation, the Nelson Mandela Children's Fund (NMCF), which helps AIDS orphans, street children, disabled children, and poor children.
Here, from "Nelson Mandela By Himself: The authorized book of quotations," are 12 Mandela quotes illustrating his feelings for childhood and family.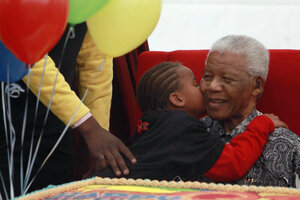 AP/Karel Prinsloo
1.

Transkei Dreams

"I have the most pleasant recollections and dreams about the Transkei of my childhood, where I hunted, played sticks, stole mealies on the cob and where I learnt to count; it is a world which is gone. A well-known English poet had such a world in mind when he exclaimed, "The things which I have seen I now can see no more."

– From a letter to a friend, Pollsmoor Prison, Cape Town, South Africa, Feb. 22, 1985