Mom's top 10 book list for toddlers
Curling up with a toddler and a good book is one of the unadulterated joys of parenthood. For little ones, every page holds a hidden surprise that never grows old. Toddlers learn through repetition and love to reread the same book over and over again. Each reading offers the opportunity for tots to find something new in the illustrations or the text. Finding a great book, one that engages both parent and child through infinite reprises, is worth its weight in gold for parents familiar with the refrain, "One more time!"
The Monitor asked parents to submit their favorite books to read with their toddlers in an informal Facebook survey. Our survey revealed that many of the books that parents cherish most are those that they remember reading as children. Here are the top ten recommendations of stories that are sure to hold up through endless readings – we can't make any promises about the pages of the book, though.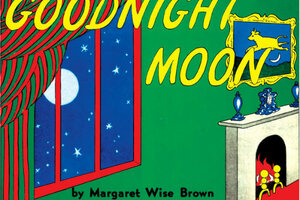 1.

'Goodnight Moon' by Margaret Wise Brown

"Goodnight Moon" by Margaret Wise Brown has delighted little readers for 50 years. Brown's lyrical text and illustrator Clement Hurd's "great green room" has become so iconic that many adults can still recite the passages from book from their own childhood. Harper Collins has sold 14 million copies of the book since its first publication in 1947. In recent years, illustrations from the book have been repurposed to create a matching game, counting cards, and puzzles.

Also by Ms. Brown: "The Noisy Book" and "The Big Red Barn."