Babies of 2014: Questions from crib to college
Those children born in 2014 will have plenty of questions about the world around them, especially as they prepare to head out into the world as young adults sometime in the 2030s. Here is a list of select questions that babies born in 2014 will ask their parents as they grow up, courtesy of the Beloit College Mindset Lists.
"At some point you are going to have to explain yourself and your generation to the inquiring minds of your children, so it is best to recognize now how rapidly things change," explain list authors Tom McBride and Ron Nief, professors at Beloit College in Wisconsin.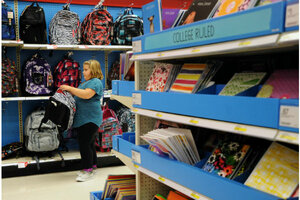 Sam O'Keefe/News & Daily Advance/AP
1.

Backpacks

"What were you carrying around in those big backpacks when you were in school?"

As more children learn from laptops, tablets, and smart phones, backpacks may become as antiquated as the large textbooks that once filled them. Students will still need to purchase a bag for all their supplies, but someday instead of backpacks the size of small children, we may instead see tots toting stylish laptop sleeves or messenger bags to carry their things to school.