Lessons from the Sochi Winter Olympic Games
Every Olympic Games offers an opportunity for those of us watching at home to learn from world athletes. Win, lose, or draw, the Sochi Olympic Games are no different, offering podium-worthy lessons in athleticism, humility, and strength from athletes in every sport. If you pay attention, you can even learn a little about chemistry when learning about how to make snow stay frozen with the use of salt and fertilizer. Here are lessons learned from the 2014 Sochi Winter Olympic Games.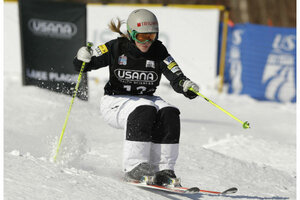 Mike Groll/AP/FILE
1.

Olympians are Olympians, on and off the course

We've heard it too many times in reference to sport, "Quitters never win and winners never quit." That line, often meant to motivate, doesn't always relate to the Olympics. Sometimes, stepping aside is the smart and safe option, which still sets a good example for budding athletes everywhere.

The US moguls skier Heidi Kloser was injured and out before the opening ceremonies. Russian figure skating favorite Evgeni Plushenko stepped aside after injuring his back during a warm-up routine. Despite their early exits from the Games, they are still Olympians and their hard work and perseverance to make the team should always be recognized.