12 ways to be a less distracted parent
More parents and kids are plugged in to electronic communication, gaming, and other digital entertainment than ever before. Increased distractions mean there is a greater need for parents to be reminded of how to stay connected with their kids. Bonnie Harris, an expert in early childhood education and director of Connective Parenting, has spent decades working with parents and kids to establish and strengthen family bonds. Here are her tips for parents to help them stay connected to their kids in today's distraction-heavy society.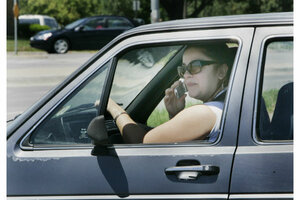 Orlin Wagner/AP/FILE
1.

Unplugged zones

Establish unplugged zones and times of the day. Make sure the rules are established together and are agreed on by all those with cellphones, digital music players, tablet and laptop computers, and game devices. For instance, specific cellphone-free zones could be: in the car, mealtime, family playtime, and at bedtime.