Favorite spring Google Doodles
Spring has sprung on Google, as witnessed by the doodle celebrating the vernal equinox. We looked back and found some favorite doodles from years past celebrating spring flowers and holidays in true Google fashion. Here six of our favorite spring Google Doodles.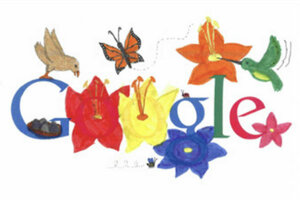 Screenshot from Google
1.

Student Doodle 2008

In 2008, Google asked US students grades K-12 "What if?" and encouraged them to doodle their own questions and answers. Sarah Bezerra, a student from Millcreek Elementary in Kentucky, answered the question, "What if there was no Spring...Could we still see those beautiful and colorful flowers?"

Thursday, March 20 is the last day to enter the 2014 student Google Doodle contest. Winners will see his or her artwork on the Google homepage and receive a $30,000 college scholarship and a $50,000 Google for Education technology grant for his or her school.