Temper tantrums? Five tech-free tantrum taming tips
Parents of toddlers and young children are often familiar with the telltale signs of a temper tantrum. Storm clouds seem to form on the horizon as patience shortens and tears start to fall.
Many parents have grown accustomed to relying on smartphones or tablets to calml the storm. But what about handling tantrums gadget-free?
Parents need to consider a few factors when it comes to temper tantrums. Experts agree that most often they aren't planned, and can often be rooted in children becoming frustrated as they try to communicate an idea.
Also, rewarding the bad behavior won't make tantrums go away. So handing over something your kid wants, like a game of "Angry Birds" or the "Frozen" soundtrack on the iPhone, may lead to more tantrums in the future.
According to a tip sheet on taming temper tantrums from the Mayo Clinic, "For older children, tantrums might be a learned behavior. If you reward tantrums with something your child wants — or you allow your child to get out of things by throwing a tantrum — the tantrums are likely to continue."
And, like tropical storms and changes in the economy, tantrums have been studied for their patterns. According to a 2011 NPR story, scientists recorded more than 100 tantrums to find a pattern to the crying and screams. It turns out, each child's tantrum has an "audio signature" unique to that child.
According to the NPR report, "They [scientists] found that different tantrum sounds had very distinct audio signatures. When the sounds were laid down on a graph, the researchers found that different sounds emerged and faded in a definite pattern. Unsurprisingly, sounds like yelling and screaming usually came together."
Parents know that not every tantrum is easily abated, but there are some options that can help engage kids and divert them from a meltdown, versus fanning the flames.
Here are five parent-proven ways to calm a tantrum down without resorting to screen time.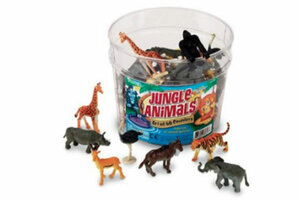 Screenshot from Amazon.com
1.

Create a distraction

Suddenly turning the focus to something else beyond the tantrum can help your child take their laser focus off of their frustration.

One option, especially great for younger toddlers: engage your child in a game making of animal noises. The silliness will likely make your child stop in their tracks, and it will lighten the mood for you, too. The instant game can turn into a lesson as you list off animals and their sounds. As a bonus, if you have a package of toy animals on-hand, you can build an on-the-spot zoo, versus looking like a zoo attraction yourselves.