32 classic books for parents and kids to read together
How does a book become a classic? Experts say it's through a combination of literary merit and the hard, timeless questions the stories raise – notions about choices, about class and society, about personal responsibility, about how societies are sustained and how they collapse, as well as about themes of interpersonal relationships and of love, as in the perennially popular "Romeo and Juliet."
Consider "The Great Gatsby," suggests Nancy Carr, senior development editor at Great Books Foundation. Its enduring place in American canon, she said, derives from F. Scott Fitzgerald's ability to deal in a complex way with such questions as identity, selfhood, professed values versus the values revealed through action, responsibility to self and others and so forth. Such a book, she says is "inexhaustible. You can't distill it down and say "this is the theme…You can keep revisiting it over a lifetime."
You don't need an English degree for you and your children to read books simultaneously. Starting at the middle school level, experts say, there are plenty of classic titles sophisticated enough to hold parents' attention yet accessible enough for kids.
Much like grown-up book club buddies, families can't help but learn more about each other as they share literature. Your child may come to appreciate your fascination with plot while you're delighted to discover that she's mature enough to really understand metaphor. Maybe you savor a lovely, melodic, description while he helps you relish gritty dialogue.
What's more, in adolescence, when relationships can be strained, a fictional situation may give you or your child just the neutral opening you need to broach a sensitive issue without having to address it directly.
Rachel Claff, editorial director of the Great Books Foundation's K-12 programs, suggests that parents who want to read with their children begin by piggybacking on the reading lists already being offered by their schools.
The Great Books Foundation web site provides some guidelines for discussion, and the Young Adult Library Services Association pairs classics with contemporary retellings.
Here is a list of 32 suggested book titles from the Great Books Foundation, provided by the Editorial Director of K-12 Programs Rachel Claff and Senior Development Editor Nancy Carr: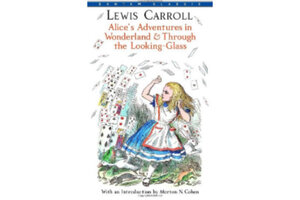 Screenshot from Amazon.com
1.

"Alice in Wonderland" by Lewis Carroll

This story is a prime example of the "literary nonsense" genre, and is best for students in middle school and older. The novel was published in 1865 and tells the story of Alice who falls down a rabbit hole and is taken on the adventure of a lifetime through a fantasy world of characters helping her find her way home. The book is considered a major influence on authors writing in today's fantasy genre.