Extreme kitchen makeover: 5 ways gratitude is the best contractor
Glennon Doyle Melton, founder of Momastery.com and author of New York Times bestselling book "Carry On, Warrior" offers five tips for a beautiful kitchen makover, showing readers her own kitchen and its gorgeous design, all built through the hard work of showing gratitude:
Recently I posted a picture of myself in my kitchen, and I immediately started receiving generous messages from people wanting to help me "update" it. Along with their messages came pictures of how my kitchen could look, if I'd just put some effort and money into it.
I've always loved my kitchen, but after seeing those pictures I found myself looking at it through new, critical eyes. Maybe it was all wrong. Maybe the 80′s counters, laminate cabinets, mismatched appliances and clutter really were mistakes I should try to fix. I stood and stared and suddenly my kitchen looked shabby and lazy to me. I wondered if that meant I was shabby and lazy, too. Because our kitchens are nothing if not reflections of us, right? I decided I'd talk to my husband Craig and make some calls about updates.
But as I lay down to sleep, I remembered this passage from Thoreau's Walden: "I say beware of all enterprises that require new clothes and not a new wearer of the clothes." Walden reminds me that when I feel lacking – I don't need new things, I need new eyes with which to see the things I already have. So when I woke up, I walked into my kitchen wearing fresh perspectacles.
Here's what I saw: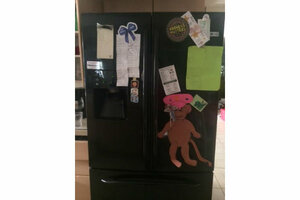 Glennon Doyle Melton/Momastery.com
1.

Refrigerator

You guys. I have a REFRIGERATOR.

This thing MAGICALLY MAKES FOOD COLD. I'm pretty sure in the olden days, frontierswomen had to drink warm Diet Coke. Thank you, precious kitchen.

Inside my refrigerator is FOOD. Healthy food that so many parents would give anything to be able to feed their children.

Almost 16,000 mama's babies die every day from malnutrition. Not mine. When this food runs out, I'll just jump in my car to get more. It's ludicrous, really. It's like my family hits the lottery every morning.