15 recipes for outdoor dining
Summer is the season of eating outdoors. Typically, that means food that is either grilled or packed into portable containers and served cold. From the Monitor's archives, here is a list of 15 recipes – some exotic, some traditional, and all delectable – to help you prepare for your next picnic, barbecue, or day at the beach.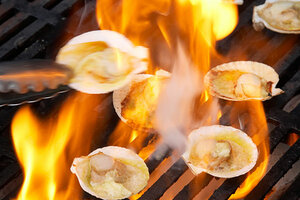 1.

Grilled sea scallop and tropical fruit salad

Originally posted in "Going for thrills on the grill" by John Edward Young

Serves 4

Olive oil
4 slices fresh pineapple, about 1/2-inch thick
1 ripe mango, peeled and diced
1 ripe avocado, peeled and diced
Juice of 1 fresh lime
Juice of 1 fresh lemon
16 large sea scallops, rinsed and patted dry
6 cups mixed greens or salad bowl or Boston lettuce

Lightly brush grill with olive oil.

Over high heat, grill pineapple slices about 3 minutes on each side, or until tender and golden brown; remove from grill. When cool enough to handle, cut away skin and hard center core; discard. Cut pineapple in small pieces.

Place mango, avocado and pineapple in a large bowl; toss with lime and lemon juices.

Remove the small crescent-shaped tough muscle from each sea scallop. Place scallops on the grill – threading scallops on a bamboo skewer can facilitate turning. Cook for about three minutes on each side.

Divide salad greens on 4 plates, top with fruits and juices and scallops. Drizzle with additional olive oil if desired.