Pickling and canning? Of course you can!
Summer is winding down and bushles of cucumbers, radishes, tomatoes, and plums are quickly becoming last season. One way to put the summer bounty to long-term use is by canning and pickling.
But all those steps? All the washing, boiling, and straining ... and boiling again? Have no fear! You can conquer canning.
Here are 12 recipes for sweet jams, savory chutneys, and crunchy pickles a plenty that will leave your mouth watering and send your can-do attitude soaring.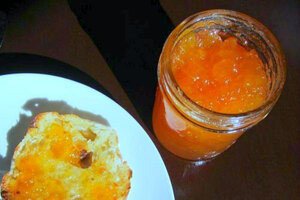 The Rowdy Chowgirl
Peach jam

(Adapted from 175 Best Jams, Jellies, Marmalades & Other Soft Spreads, by Linda J. Amendt.)

Makes about 7 8-ounce jars.

4 cups ripe peaches, pitted, peeled, and crushed (about 4 lbs. peaches)
2 tablespoons lemon juice
1 box (1.75 ounces) powdered fruit pectin
5-1/2 cups granulated sugar, divided

1. To remove skins from peaches: bring large pot of water to a boil. Fill large bowl with ice water. Cut a shallow X through the skin on the bottom of each peach with a paring knife. Working with 3-4 peaches at a time, place peaches in the boiling water, cover, and cook for 1 minute. With slotted spoon, remove peaches to ice bath for about 2 minutes. Remove from ice bath and skin should peel easily from peaches.

2. Remove pits from peaches, then crush with a potato masher.

3. Prepare canning jars and lids and bring water in water bath canner to a boil.

4. Pour peaches into an 8-quart stainless steel stockpot.

5. In a small bowl, combine pectin and 1/4 cup of the sugar. Gradually stir into the fruit.

6. Bring fruit mixture to a full rolling boil over medium-high heat, stirring constantly. Gradually stir in the remaining sugar. Return to a full rolling boil, stirring constantly, and boil for 1 minute.

7. Remove pot from heat and skim off any foam. Let jam cool in the pot for 5 minutes, stirring occasionally.

8. Ladle hot jam into hot jars, leaving 1/4-inch headspace. Remove any air bubbles. Wipe jar rims and threads with a clean, damp paper towel. Center hot lids on jars and screw on bands until finger-tip tight.

9. Place jars in canner, making sure they are covered by at least 1 inch of water. Cover and bring to a gentle boil. Process 4-ounce jars and 8-ounce jars for 10 minutes; process 1-pint jars for 15 minutes.

10. Remove jars from canner and place on a wire rack or cloth towel. Let cool for 24 hours, then check seals. Wash and dry jars, label, and store in a cool, dry, dark location.

Read the full Stir It Up! post by guest blogger Christina Masters: Peach jam