Brownie bonanza: 12 recipes of goodness
Massive chocolate craving? Look no further. We've compiled 12 delicious recipes for everyone's favorite dessert: brownies.
White chocolate, carmel, cream cheese, cinnamon, ginger, Oreos, pecans, peanut butter, nutella; we've got it all, baked into chocolatey brownies, blondies, and bars.
Whether you're an ooey gooey person, a fudge lover, or a fan of the chunky brownie stuffed with goodies, you are sure to find your next favorite brownie recipe here.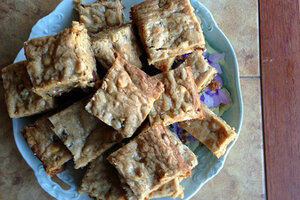 Kitchen Report
1.

White and dark chocolate chip blondies

2-1/2 cups all-purpose flour
1 teaspoon baking soda
1 teaspoon salt
2 cups packed light brown sugar
1 cup (2 sticks) butter, softened (I used 1 stick butter, 1 stick margarine)
1 teaspoon vanilla extract
2 large eggs
3/4 cups white chocolate chips
3/4 cups dark chocolate chunks
1/2 cup walnuts, chopped
1/2 cup toasted coconut

Preheat the oven to 350 degree F. Grease 13 x 9-inch baking pan.

Combine flour, baking soda and salt in small bowl. Beat brown sugar, butter, and vanilla extract in large mixer bowl until creamy. Add eggs one at time, combining well before adding the second egg; beat until light and fluffy. Gradually stir in flour mixture.

Stir in chocolate chips, walnuts, and coconut. Spread into prepared pan.

Bake for 30 to 35 minutes or until golden brown. Cool completely in pan on wire rack. Cut into bars.