Thanksgiving recipes: 20 ideas
The biggest behemoth of all cooking days is just around the corner.... Thanksgiving! Cut through the clutter of blog, magazine, and cookbook recipes. Stir It Up! has you covered.
We've picked our 20 favorite Thanksgiving recipes from our guest bloggers. This list has something for everyone, with classics like sweet potato casserole, to new takes on old favorites, like spiced cranberry chutney with apricots and pecans. Start with a simple do-ahead appetizer, and end with a bread basket full of surprises.
Whether you're a holiday-hosting pro or a Thanksgiving newbie, you're bound to find an inspiring recipe on our list. And you might just uncover a new a family favorite.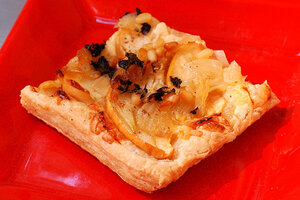 Garden of Eating
Starters: Apple cheddar tart with caramelized onions

Makes one tart

Serves 4 to six 6 an appetizer (or 2 to 3 as a main course)

1 sheet puff pastry, defrosted

2 medium or 1 large apple, cored and sliced (not too thick, you want to avoid too much weight or liquid as it will make the pastry soggy)

2-3 branches fresh thyme, chopped

Handful of fresh basil and/or oregano, chopped

1 cup grated cheddar cheese (you could also use goat or gruyère cheese)

1 large onion, sliced

Extra-virgin olive oil

Freshly ground black pepper

Sea salt

Handful of toasted pine nuts

Preheat the oven to 375 degrees F. While you're waiting for the pastry to defrost, sautée the onions in a frying pan in olive oil until translucent.

Lay the sheet of puff pastry out on a parchment paper-lined baking sheet. Prick the dough inside the border all over with the tines of a fork to prevent it from puffing up too much during baking.

Spread a layer of cheddar (or whichever cheese you choose) on the pastry. Top with the onions, then arrange the apple slices on the pastry in a single layer (crowding or overlapping them could make the puff pastry soggy). Scatter the fresh herbs over the apples. Drizzle the tart with some olive oil and season with salt and pepper. If using gruyère, reserve a little cheese to sprinkle over the top.

Bake the tart until the pastry is crisp and deeply browned on the bottom and around the edges, 30-40 minutes.