Christmas cookie recipes and other holiday treats
Visions of sugar cookies dancing through your head? Dreaming of a white chocolate Christmas? Stir It Up! has a collection of a festive Christmas cookie recipes, plus a few other favorite holiday treats.
Jingle all the way through December with snicker doodles, spiced mice butter cookies, and – oh what fun – peanut butter fudge!
This year, turn that Christmas list into a grocery list, and give everyone a holly jolly holiday treat.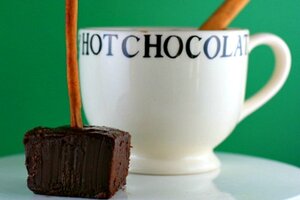 The Runaway Spoon
Hot chocolate pops

By Perre Coleman Magness, The Runaway Spoon

8 ounces semi-sweet or bittersweet chocolate (60% cocoa)

8 ounces milk chocolate

1 cup heavy whipping cream

1. Line an 8-1/2- by 4-1/2-inch loaf tin with nonstick foil, waxed paper, or plastic wrap, leaving some overhang.

2. Break up the chocolate into very small pieces and place into a shallow bowl. In a small saucepan, heat the cream over medium heat until it just comes to a boil.

3. When the cream is hot, pour it through a sieve over the chocolate and leave to soften for a minute. Stir the mixture vigorously until all the chocolate is melted and smooth. Scrape all of the chocolate into the prepared loaf tin, smooth the top, and leave to cool, then refrigerate for about an hour until just firm.

4. Gently remove the loaf using the overhanging wrap and cut the block into eight 1-1/2-inch cubes. Run your knife under warm water before each cut. Insert the desired stirrer into the center of each cube, making sure they will stand up on their own. Gently return the block to the loaf tin and refrigerate until completely firm.

5. The pops will keep in the fridge for a week, but bring them to room temperature before using.

6. If you'd like, you can coat the cubes of chocolate in powdered sugar or colored decorating sugar.

To Assemble Hot Chocolate

Bring the pops to room temperature. For each cup of hot chocolate, heat 1-1/4 cup of milk over medium heat until bubbles start to break on the surface, just before it boils. Pour into a mug and add a hot chocolate pop. Stir until the chocolate is melted.

Flavoring options:

1 teaspoon peppermint extract or

1/2 vanilla bean or

2 cinnamon sticks

For flavored pops: Stir one of the flavor additions into the cream before heating it. If using vanilla bean or cinnamon sticks, heat the cream with the add-in, leave to infuse for 1 hour, remove the solid, then reheat the cream and continue.

Stirrer options

Popsicle sticks

Wooden popsicle sticks or heavy skewers

Candy canes

Cinnamon sticks