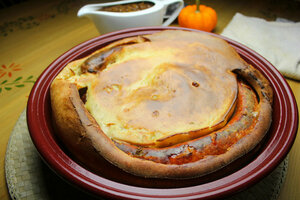 We Are Never Full
2.

Toad-in-the-hole

By Jonny Seponara-Sills of We Are Never Full

In his rather witty book, French Lessons, Peter Mayle attends the annual Fete de Grenouilles (Festival of Frogs-Legs) in Vittel, France, and describes an episode at the festival banquet in which an attendee, elbow deep in amphibian thighs, tells him that if he thinks eating frogs is unusual, she had heard of an even more peculiar repast enjoyed throughout Britain, the toad.

Now, of course, it's not true. The British do not eat toads, though, if frogs are edible, and taste a bit like chicken, then I might be prepared to try toads, if sauteed with a little garlic and parsley. However, the British do eat toad in the hole – a delicious, simple and filling dish

Toad in the Hole with Fresh Mushy Peas

Serves 4

For the batter:

1-1/2 cups plain flour, sifted

2 whole eggs

1-1/2 cups milk

1 teaspoon kosher salt

1-3 teaspoons Colemans' English mustard powder (depending on how fiery you like your batter)

Crack eggs and whisk yolks and whites together. Add to flour and mix into a paste before adding milk and whisking until smooth. Whisk in mustard powder and salt. Set aside, or refrigerate, until ready to use.

For the "Toad":

8 sausage links (about 1 1/2 – 2 lbs), separated or, as above, one 2lb ring sausage, Cumberland type, or your preference

1 onion, sliced thinly

3 cloves garlic, chopped finely

1 pint hot water

2 tablespoons Bisto (or use some beef stock and thicken w/ cornstarch)

1 tablespoon olive oil

salt and pepper

Recipe for main dish:

Preheat oven to 425 degrees F.

Heat skillet to medium-high and add oil. Brown sausage/s on all sides, then remove them.

Lower heat to medium and add onions. Saute them until soft. Add garlic and pinch of salt.

In a jug or measuring cup, combine water and bisto powder.

Continue to saute garlic and onions for four or five mins, until onions are translucent, before adding gravy mixture. Reduce heat to low and allow liquid to reduce by about a third.

Grease a 12inch baking dish with oil and place sausages in it. Pour the batter mixture around the sausages and slap it all in the oven for about 20 minutes or until batter is risen and golden-brown.

Serve anointed with onion gravy.

Typical accompaniments are mushy peas but sauteed cabbage, collard greens, kale or broccoli rabe also work nicely.

For the peas:

1 lb frozen peas

1/4 stick unsalted butter

A dash of light or heavy cream (about 1-2 tablespoons)

1/2 cup water

Simmer the peas in the water for about 12 minutes until soft.

Add the butter, cream, salt and pepper and then smash the peas, but make sure to leave them with plenty of texture.

Serve on the side of the toad-in-the-hole, fish and chips, shepherd's pie, pork pie, cheese and onion pie, steak and kidney pie… you get the idea.