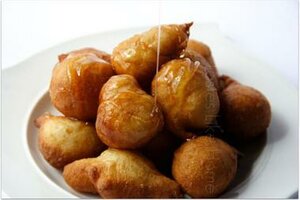 Tastes Like Home
Guyanese pancakes for Mardi Gras

By Cynthia Nelson / Tastes Like Home

Guyanese Pancakes are different from the traditional flat pancakes and this is due to the Portuguese influence on the country's cuisine. In Portugal, these pancakes are known as Malasadas (a Portuguese-style fried doughnut).

These pancakes are made and served on the Tuesday before Lent. Once you have one of these pancakes, you feel compelled to finish the entire lot. They are that good.

They are meant to be served with homemade syrup (see recipe below).

Guyanese Pancakes

Prep Time: 5 minutes

Cook Time: 4 minutes

Resting of batter: 1 hour, 30 minutes

Total Time: 1 hour, 39 minutes

Yield: 24 - 30 pieces

2 cups all purpose flour

1 heaped tablespoon granulated sugar

1/4 teaspoon salt

1 heaped teaspoon instant yeast

1/4 teaspoon ground cinnamon (optional)

3 eggs, room temperature

1 teaspoon vanilla essence/extract

3/4 cup warm milk (110 - 115 degrees F)

Oil for deep frying

Add flour, sugar, salt, yeast, and cinnamon, if using, to a large bowl and mix thoroughly.

Add eggs and essence/extract to a small bowl and whisk gently (you just want to break up the eggs and get them mixed with the essence).

Cover and let rise in a warm place for 1 and 1/2 hours or until the mixture has more than doubled in quantity.

Add oil to a deep frying pan and heat on medium heat until oil is hot (350 degrees F).

Working with 2 tablespoons, scoop and drop the batter into the hot oil. Do not overcrowd the pan. Let fry for 1 minute until nicely browned all over. Remove using a slotted spoon and drain on paper towels.

Serve warm with a generous drizzle of homemade syrup.

Homemade syrup

This homemade syrup is traditionally made to go with the Guyanese-style pancakes that are served on the Tuesday before Lent. It is a syrup that you can make and use throughout the year on a variety of desserts and other baked goods.

Prep Time: 2 minutes
Cook Time: 20 minutes
Total Time: 22 minutes
Yield: 1 1/4 cups

2 cups Demerara Sugar (substitute with cane sugar or packed brown sugar)

1 (4-inch) cinnamon stick

1 cup water

Add sugar, cinnamon stick and water to a medium sized sauce pot. Turn the heat to medium high and stir to dissolve the sugar.

Bring the mixture to a boil then immediately reduce heat to low and let simmer gently for 15-17 minutes. Remove from heat and set aside to cool.