A feast of 18 foodie films
Food plays an important role in bringing family and loved ones together, be it for the holidays or just a regularly scheduled meal. So why not enjoy family togetherness with entertainment starring your favorite Pixar rat or eccentric cook? The reviews on the following 18 foodie films have largely been pulled from Monitor archives.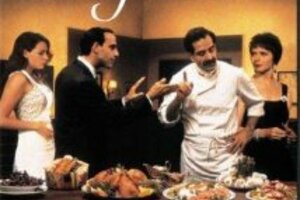 Big Night (1996)

Make sure you have plenty of snacks before sitting down to "Big Night," a delicious tale, set in the 1950s, about two Italian brothers who stake their restaurant's future on a visit from Louis Prima. This feast for the eyes is sure to whet even the most jaded gourmet's appetite.