Michigan vs. Louisville NCAA: Final four recipes for fans
Tonight's NCAA basketball championship with Michigan vs. Louisville promises to be an exciting match.
From a culinary perspective, Kentucky is known for its down-home food, such as Kentucky hot brown and chocolate pecan pie. Michigan is the land of cherries, and dried or fresh they can be mixed into both savory and sweet dishes, such as hamburgers and cherry cupcakes.
So settle in front of the TV and root for your favorite team with these regionally inspired dishes.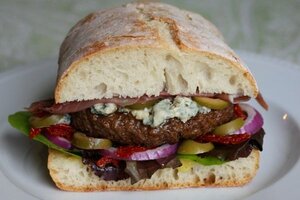 The Gourmand Mom
1.

Dried cherry burgers

Transform your favorite hamburger patty into a Michigan rally burger by stirring in dried cherries. Top with a slice of pepper jack cheese or creamy blue cheese for added pep.

Dried cherry burgers

Makes 4 burgers

12 ounces lean, ground beef

1/2 cup dried cherries

1/2 cup bread crumbs

1 clove garlic, minced

2 teaspoons Dijon mustard

1 teaspoon Worcestershire

Salt and pepper, to taste

Garnish options: pepper jack cheese, blue cheese, sliced onion, ketchup, lettuce, pickles

Combine the beef, cherries, bread crumbs, garlic, mustard, and Worcestershire sauce in a bowl. Divide into 4 equal parts, form patties 1/2-inch thick.

Grill the patties until browned and internal temperature reaches 160 degrees F, about 5 to 6 minutes cooking time per side.

Garnish, and serve with your favorite burger buns.