What kind of an eater are you?
We all eat food. But how would you describe your food habits and choices? Do you love ethnic food as a way of a culinary adventure? Do you can your own jams and raise chickens in the backyard? Or is your favorite meal the kind you unwrap from a paper sack, after it was handed to to you through your car window? The way that one eats has increasingly become associated with personal identity.
Taken too seriously, these kinds of labels could border on the ridiculous. But the editors at Stir It Up! decided to have a little light hearted fun, and maybe help make the next dinner party you host more manageable if you have to ask: Do you have any dietary needs? With this list you'll be one step ahead of the game when it comes to pleasing everyone at your dinner table.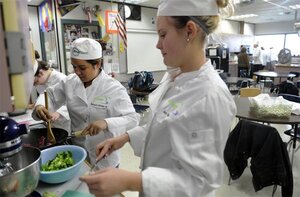 1.

Foodie / Gourmet / Gourmand

Their name has evolved through the decades, but this informed eater has been around since the Neolithic period, when a caveman accidentally dropped a garlic flower in a fire. Nowadays you've probably seen their Facebook posts about pan-seared tilapia and homemade white-chocolate-and-raspberry soufflé.

Often, a foodie/gourmet/gourmand will be able to identify the ingredients of a dish just by sniffing or tasting it, and by saying things like, "This East African slow-drip coffee has floral notes." In hipster neighborhoods, FGGs like to be the first to discover a new restaurant or keep seven kinds of flavored salt in their pantries at home. Their friends often get treated to incredible meals, homemade pickles, and well-tested recipes.

Big Mommas are a subset of FGGs – middle-age women (mostly) who like to cook, and they don't very much care about their waistlines. Salt, sugar, and fat can be found in most Big Momma meals, but they are also the masters of that "special something" that elevates a meal from good to great.