22 summer salads
Looking for some fresh salad ideas this summer? Stir It Up! has you covered. Whether you're a traditional lettuce and veggies person, or like to experiment with pastas and grains, our salad list is sure to spark inspiration.
Head to the beach with our corn and black bean salad in your cooler, bring our summer pasta salad to your next picnic, or curl up at home on a rainy afternoon with a kale salad tossed with crispy chorizo. For the salads with roasted vegetables, prepare them the night before after the heat of the day cools off.
So step away from the oven and stove more often for a few months and keep the crisper well-stocked. It's salad season!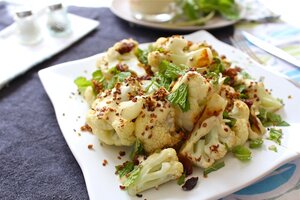 Beyond The Peel
Roasted cauliflower salad with citrus cashew dressing

By France Morissette and Joshua Sprague, Beyond The Peel

2 lb. head of cauliflower

1 onion, sliced into wedges

2 tablespoon olive oil

1/2 cup raisins

1 cup fresh mint, chopped

Citrus Cashew Dressing (recipe to follow)

Hemp Seed "Breadcrumbs" (recipe to follow)

1. Preheat oven to 400 F.

2. Cut the cauliflower into florets and place in a single layer on 1-2 baking sheets. Add the onion wedges and sprinkle with olive oil.

3. Roast for 25-30 minutes. Turning once during the last 10 minutes.

4. Place the cauliflower in a large salad bowl. Toss with raisins and mint.

5. Drizzle with Citrus Cashew Dressing and sprinkle with hemp seed bread crumbs. Serve immediately.

Citrus cashew dressing

1/2 cup cashews, soaked in 1 cup of water

Juice of 1 lemon

Juice of 1 orange

2 tablespoons each, olive oil and red wine vinegar

1 tablespoon maple syrup, honey or agave (adjust to taste)

1 garlic clove minced

1 teaspoon fresh ginger, minced

1 teaspoon each orange rind and lemon rind

1/2 teaspoon salt and fresh ground pepper

1. Soak the cashews for 1 hour.

2. Drain the cashews.

3. Add the cashews and all the remaining ingredients to the blender. Blend until smooth. Stop the blender from time to time to push the cashews that splatter along the side of the blender back down to get the entire mixture smooth. This will take 5 – 10 minutes. It depends on the power of your blender.

Note: This recipe will stiffen after refrigerated. If you find the consistency too thick, you can thin it with a couple tablespoons of water.

Hemp seed "breadcrumbs"
I used hemp hearts (raw shelled hemp seeds) from Costco. They're a good deal and at least for me, relatively local, being grown in Manitoba. If you have a nut allergy, they are a good replacement in pestos as in this one here, and make a great addition to smoothies.

3 tablespoons hemp hearts

1/2 teaspoon oil

1/2 teaspoon sweet smoked paprika (I use La Chinata)

Scant 1/4 teaspoon salt

Place all the ingredients in a small frying pan over medium heat. Stir and toast the seeds until fragant and just starting to turn golden brown. Sprinkle as a topping for salads or even soup.